Funding period: 01/2017 – 12/2018
ERICS stands for European Refugee Information and Communication Service. In this follow-up project, we develop a multimodal multisensor interaction server for a chatbot application. The server extends our digital manufacturing server from 2016. The major impact is on societal integration of refugees, i.e., enabling mutual understanding and mediating FAQ on certain information, e.g., accommodation, asylum, culture or life in the EU. Our solution saves integration costs and speeds up time-to-job, while providing opportunities for services offered by public as well as private organizations from, e.g., education, legal counselling, job offerings, etc.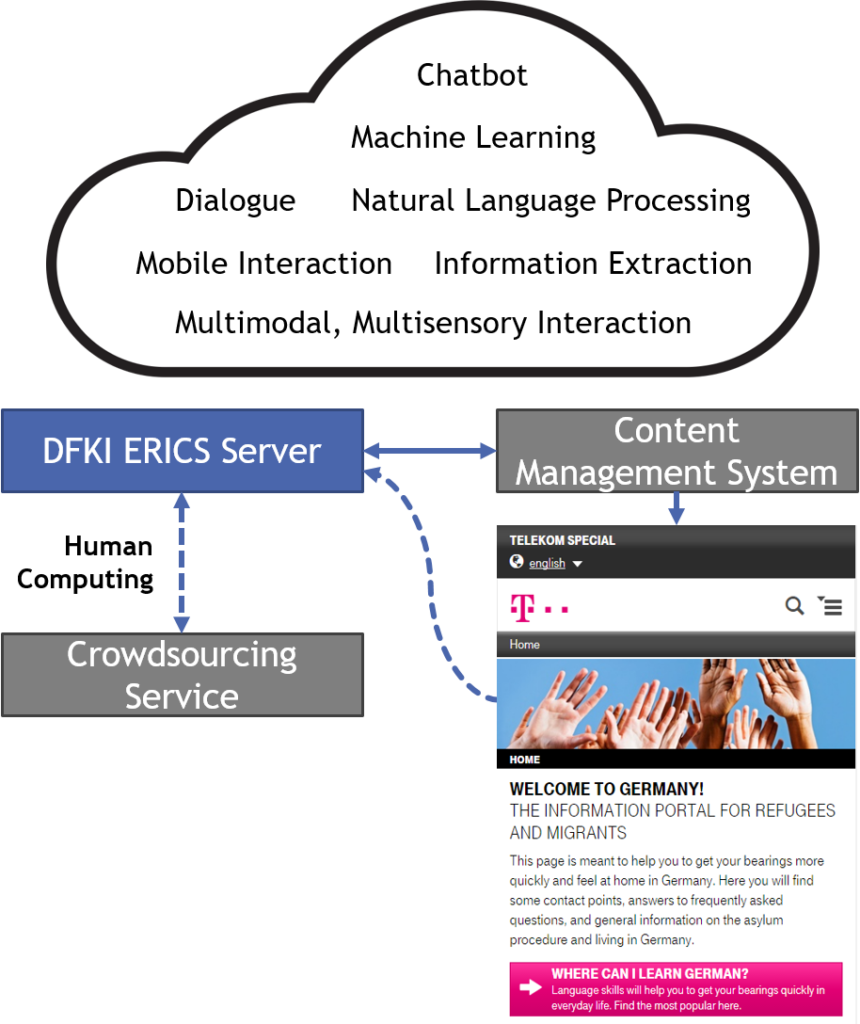 Lead DFKI partner is Deutsche Telekom AG. This project based on SmartWeb technology (BMBF) and is supported by EIT Digital (H2020).
ERICS 2018 | Eike Chatbot
What is the goal? Refugees and migrants often lack essential information about asylum, housing, health, kindergarten, university, or work. Even when they know where and how to query this information on the Internet, this process can be very time-consuming, exhausting, disorienting, and confusing.
How does Eike help? We have built an easy-to-use chatbot service that is able to interact with refugees and migrants via natural language.  In order to do so, we designed a new user interface to:
create an empathic and engaging visual interface.
facilitate a natural text-based dialogue between users and our chatbot during the information seeking and retrieval process.
collect user feedback to further improve the chatbot service across time using machine learning.
We developed the chatbot Eike that answers migrants' questions about Germany (it was launched on handbookgermany.de). The API supports advanced presentation (n-best presentation) and logging capabilities that allow us to learn from user interactions (community-based crowdsourcing or crown-sourcing services).
ERICS 2017 | Capiche Translation Service
Crowdsourcing is recently used for building semi-automatic systems when automatic approaches alone fail. In this project, we investigated how users-in-the-loop can effectively contribute to natural language translation. In 2017, our project partners launched Capiche: a smart language-assistant for refugees which is based on crowdsourcing.
Resources: